Mere seconds into the celebrity-filled benefit concert for victims of Hurricanes Harvey and Irma did these stars turn the ostensible charitable event into a platform for left-wing sermonizing.
Stevie Wonder, who kicked off the show, began with call for unity, but then turned to mock anyone who questioned the global warming theory.
"When love goes into action, it preferences no color of skin, no ethnicity, no religious beliefs, no sexual preferences, and no political persuasions," Mr. Wonder began. "It just loves. As we should begin to love and value our planet."
But after calling for love, he singled out skeptics of man-made climate change for derision.
"Anyone who believes that there is no such thing as global warming must be blind or unintelligent," Mr. Wonder said. "Lord, please save us all."

Beyoncé followed soon after, again using the national telethon to promote climate change activism, warning that we must prepare for "what comes next."

"The effects of climate change are playing out around the world every day," she stated. "Just this past week we have seen devastation from the monsoon in India, an 8.1 earthquake in Mexico, and multiple catastrophic hurricanes. Irma alone has left a trail of death and destruction from the Caribbean to Florida to the southern United States. We have to be prepared for what comes next. So tonight, we come together in a collective effort to raise our voices, to help our communities, to lift our spirits and heal."
NBC's Matt Lauer, following Beyoncé, intoned "Hurricane Irma was the most powerful Atlantic storm ever recorded, cutting a path of destruction across the Caribbean, the U.S. Virgin Islands and then setting its sights on the U.S. mainland."
According to Colorado State University meteologist, Philip Klotzbach, Hurricane Irma is actually tied for the 7th strongest hurricane ever recorded: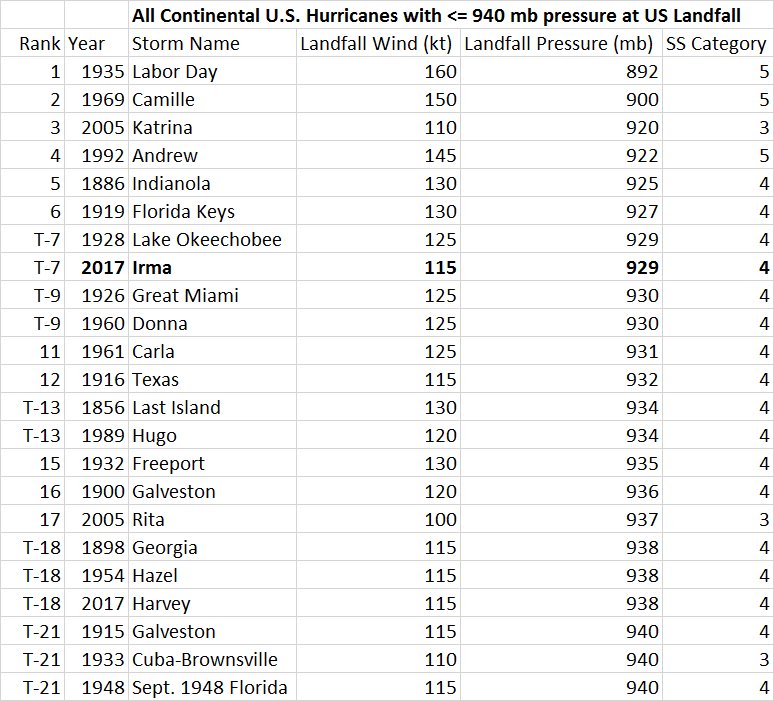 Justin Bieber, who is reportedly pursuing a more religious lifestyle, introduced "my man," an unnamed spiritual adviser, as well as a rabbi, Ari Lucas, and the director of the Islamic Center of Southern California, Jihad Turk, to pray.
The prayer, making reference to the "great division in our nation," eschewed an "amen" at its conclusion in favor of a non-denominational "Hallelujah":
"God, we the faith community come asking for wisdom, discernment, and compassion, as we walk alongside those who have lost so much: loved ones, homes, businesses, and hope. Cause us to be the hands and feet of compassion, to all who are in need, no matter their background. At a time of great division in our nation, may we lay down our differences, pick up our common humanity for the sole purpose of serving our fellow man until hearts are healed and lives restored. And though we don't yet understand the purpose of the storms, we know you will guide us through the storms. So we close this prayer, not with an amen, but with a praise rooted in an eternal hope, hallelujah."

Other celebrites who participated in the event included Leonardo DiCaprio, Robert DeNiro, George Strait, George Clooney, Jamie Foxx, Karlie Kloss, Matt Lauer, Rob Lowe, Matthew McConaughey, Cher, Norah O'Donnell, Dennis Quaid, Julia Roberts, Kelly Rowland, Adam Sandler, Ryan Seacrest, Michael Strahan, Blake Shelton, Barbra Streisand, Oprah Winfrey, and Reese Witherspoon.
Donations go to Comic Relief USA's Hand in Hand Hurricane Relief Fund.