You won't find one of the biggest news stories of the 2020 campaign season on social media.
And that's by design.
Both Twitter and Facebook are effectively forbidding their users from sharing an explosive New York Post story detailing Hunter Biden using his father, then vice president, to help a Ukrainian oil company avoid taxes and regulatory scrutiny.
The story is almost too unbelievable to be believable:
Hunter Biden discussed leveraging his connection to his father in a bid to boost his pay from a Ukrainian natural gas company, according to an email he sent around the time he joined the firm's corporate board.
In a lengthy memo to his then-business partner, Devon Archer, who already sat on the Burisma board, Biden repeatedly mentioned "my guy" while apparently referring to then-Vice President Joe Biden.
… The email, labeled from Robert Biden — Hunter's first name — is among a trove of messages, documents, photos and videos purportedly recovered from a MacBook Pro laptop that a Delaware computer shop owner told The Post was brought in for repair in April 2019 and never picked up.
A Facebook communications official, Andy Stone, literally bragged about "reducing its distribution":
Stone, it's worth noting, is a long-time Democratic operative, having earlier worked for Sen. Barbara Boxer of California and the Democratic Congressional Campaign Committee.
Not to be out-censored, Twitter likewise imposed a blockade against the damaging Biden story.
After the report began circulating, many Twitter users observed that when they tried clicking the link, they ran into the following roadblock: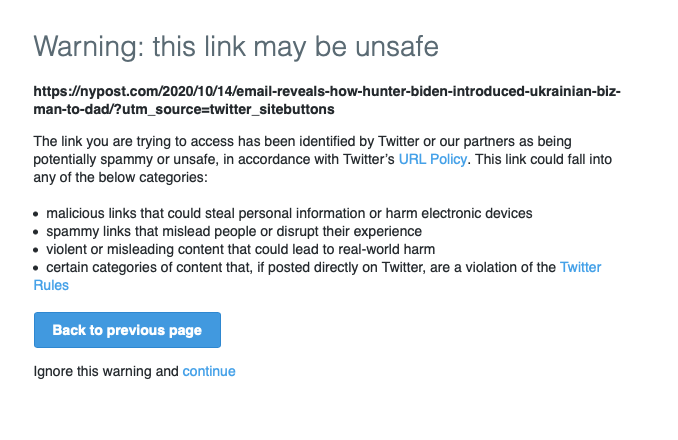 Even more incredible, Twitter has locked out The New York Post from its Twitter account, preventing them from posting new articles.
"The Post's primary Twitter account was locked as of 2:20 p.m. Wednesday because its articles about the messages obtained from Biden's laptop broke the social network's rules against "distribution of hacked material," according to an email The Post received from Twitter," the paper reported.
Twitter claims it's censoring the story because they're unsure where the documents originated from.
"In line with our Hacked Materials Policy, as well as our approach to blocking URLs, we are taking action to block any links to or images of the material in question on Twitter," an official said:
This policy was notably absent when The New York Times published President Trump's tax returns without disclosing where they received them from.
CNN's media reporter, Oliver Darcy, who frequently contends there's "no evidence" social media companies tilt their platforms against conservatives did not acknowledge there not being clear-cut evidence that they do. Instead he retweeted the Facebook exec boasting about it:

Twitter's blackout was noted by liberal journalist Yashar Ali:
Joe Biden has insisted throughout his most recent presidential campaign that there's not a "scintilla" of evidence against Hunter Biden [Supercut].
In an interview with Axios earlier this year, Biden insisted everything was kosher:
BIDEN: There's not been one scintilla of evidence that my son ever interfered, that he ever asked me anything, that I ever got involved in anything. (...) "I mean, come on, this is — (laughs) — you guys are amazing."
ALLEN: "So you think everything that happened was kosher?"
BIDEN: "You know there's not one single bit of evidence, not one little tiny bit that says anything done was wrong. You know that."
We've reached out to both social media companies and will report back any comments they provide.
The New York Post's editorial board attacked Facebook for silencing their reporting:
No one is disputing the veracity of The Post's story — not even Hunter Biden. His lawyer George R. Mesires wouldn't deign to comment on the reporting, simply attacking the messenger. The Biden campaign did the same, dismissing it all as "discredited," while saying that no meeting showed up on Joe Biden's official schedule on those dates. (Well, if it wasn't "official," guess it didn't happen.)
Yet Facebook is deliberately trying to keep its users from reading and deciding for themselves what it means.
…
An executive of one of the most powerful media platforms in the country, who brags about his years working as a partisan Democratic operative, publicly boasting of his attempt to keep Americans from learning something embarrassing about the Democratic presidential candidate. Facebook isn't a media platform. It's a propaganda machine.