A group of celebrities -- many of whom have earlier called for ridding America of its "racist," and "antiquated" Electoral College system -- are now calling on the Electoral College to honor "our Founding Fathers" and "safeguard the American people from the dangers of a demagogue."
The Hollywood activists -- who include Martin Sheen, Bob Odenkirk, and Moby -- are asking Republican members of the Electoral College to not necessarily vote for Hillary Clinton, but to vote against Donald Trump.
"As you know, the Constitution gives the electors the right to vote for any eligible person," says an actor who appeared in M.A.S.H., Mike Farrell.
"But it should certainly be someone you consider especially competent" added the actress who played "Grace" in "Will and Grace," Debra Messing.
The campaign, organized by the anti-Trump group Unite for America, is promising "free and strictly confidential legal support to any Elector who wishes to vote their conscience."
Yet despite calling on the Electoral College "to ensure that the presidency only goes to someone who is 'to an eminent degree, endowed with the requisite qualifications," many of these same celebrities have previously called on America to scrap its Electoral College.
"We simply need to end the electoral college. You can't have a democracy wherein the person with the most votes loses," Moby told his followers on Instagram after Clinton lost.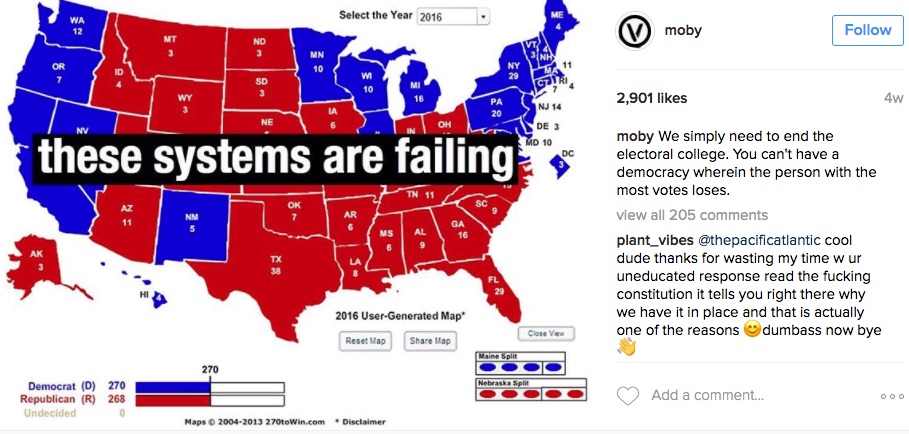 Only two days before Debra Messing circulated a related petition calling on the Electoral College to make Hillary Clinton president, Messing said it was "very important" to scrap the Electoral College.

In addition to replacing the Electoral College with a direct vote, Messing laid out two other ideas:

Lessing also circulated a post by Harvard professor Lawrence Lessig, proposing a legal battle over the Electoral College, challenging its constitutionality on 14th Amendment equal protection grounds.
Before calling on the Electoral College to interject its will on the 2016 presidential race, the actor and producer James Cromwell -- who appeared in films like Babe (1995), Star Trek: First Contact (1996), L.A. Confidential (1997), The Green Mile (1999) -- decried the existence of the Electoral College. Calling America a #shamocracy, Cromwell said, "We live in a police state. We have no democracy."
"You will make yourself heard through the constitutional responsibility handed to you by Alexander Hamilton himself," the soul/R&B singer Freda Payne says in the video. Yet last month Payne accused Trump of having "rigged" the outcome.

Actor Steven Pasquale, who is mostly known for playing a New York City firefighter in the show "Rescue Me," was likewise against the Electoral College before he was for it. "The Electoral college came into being to give slave states more leverage," he tweeted November 9th. "Lets take a hard look at that." More from Pasquale:

Based on how quickly these celebrities have pivoted from trashing the Electoral College to venerating its role in America's republic, it seems their actual guiding principle is imposing their preferred outcome upon America -- by whatever means necessary.