Hurricane Florence is now bearing down on North Carolina, and the media is looking to score political points.
On MSNBC, host Chris Hayes invited meteorologist Eric Holthaus on to argue global warming is making hurricanes worse, and that President Trump is to blame.
"We have a president that is denying the impacts of, you know, this hurricane season last year and this year and actively making the problem worse by, you know, not addressing this root cause of worsening storms," Holthaus told to a nodding Hayes.


On CNN, political analyst John Avlon, in a segment titled "Reality Check," suggested Trump is at fault for Hurricane Florence, and that his climate policies could kill up to 80,000 people per decade.
Is Trump "complicit in this storm?" asked Alisyn Camerota in the segment introduction.
"His policies have been tearing down our defenses to climate change, which is often a blame for extreme weather," Avlon answered. "On the same day Trump was discussing Florence, his EPA proposed rolling back restrictions on emissions of methane. That's just the latest environmental policy targeted by the Trump Administration."
Avlon rattled off a series of Obama-era environmental regulations the Trump Administration is rolling back -- including pulling out of the Paris climate accord — and then boldly predicted a death toll in the thousands.
"It is so bad according to two Harvard scientists, it could lead to 80,000 unnecessary deaths every decade," Avlon said. "Warmer water means more intense storms. When President Trump called Hurricane Florence tremendously wet, he was on to something."
"This isn't rocket science, it is climate science," he concluded. "As long as we continue to aggressively ignore it, the cost in lives and dollars will escalate. That's your reality check."


In the Washington Post, the paper editorialized that Trump is "complicit" in Hurricane Florence's anticipated destruction.
"When it comes to extreme weather, Mr. Trump is complicit," the editors wrote. "He plays down humans' role in increasing the risks, and he continues to dismantle efforts to address those risks. It is hard to attribute any single weather event to climate change. But there is no reasonable doubt that humans are priming the Earth's systems to produce disasters."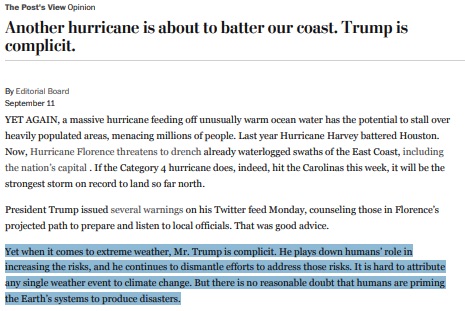 The paper concluded:
With depressingly ironic timing, the Trump administration announced Tuesday a plan to roll back federal rules on methane, a potent greenhouse gas that is the main component in natural gas. Drillers and transporters of the fuel were supposed to be more careful about letting it waft into the atmosphere, which is nothing more than rank resource waste that also harms the environment. The Trump administration has now attacked all three pillars of President Barack Obama's climate-change plan.
The president has cemented the GOP's legacy as one of reaction and reality denial. Sadly, few in his party appear to care.
Back on MSNBC, host Katy Tur invited on media personality Bill Nye and former director of communications for President Obama's White House Climate Change Task Force, Paul Bledsoe, to setup Trump as the fall guy for Florence.
Tur introduced the segment claiming "climate deniers" in the Trump Administration make it "incredibly difficult to deal with this disaster."
"President Trump says FEMA is ready for Hurricane Florence but mounting evidence suggests it could be incredibly difficult to deal with this disaster if climate change deniers are on the front lines," Tur said. "A new study from the Princeton University is echoing the findings of previous research showing climate change as the cause of ocean conditions that produce fast storms like Hurricane Harvey. NOAA is suggesting it's 3 degrees Fahrenheit above average. Where does the Trump Administration stand on climate change? President Trump rolled back Obama era mandates for leaks and oil and gas wells. These rules were part of Obama's three part strategy for combating climate change."
After Nye attacked anyone who "continue[s] to deny climate change" for undermining America's ability to respond to extreme weather, Bledsoe leveled an even sharper political attack against the Trump Administration.
"Donald Trump and other Republicans are denying climate change are on the wrong side of public safety, of economics and of history," Bledsoe intoned. "This is not an environmental issue fundamentally. It's one of public safety and economics and unfortunately, we're going to see more and more of these extreme, costly and threatening-to-public-health-and-safety events until we begin to reduce our emissions."

RELATED:
— Weatherman Dramatically Braces for Hurricane Florence While Two Guys Casually Stroll By
— Obama Slams Trump and Fox News: Forces of Anger 'Are Constantly Being Fanned'
— Chelsea Clinton: Would Be 'Unchristian' to Return to Time Before Legal Abortion
— Chef José Andrés: Trump Has 'a Lot of Blame to Take' for Puerto Rico Deaths
— Rush Limbaugh Quotes Grabien Report on Media Blaming Trump for Hurricane